Cedar Grove has a fall Compost Fest underway, running through October 14. Fred Meyer locations, Cedar Grove locations and other independent retailers across the Puget Sound region will offer the promotional items. Visit the Compost Fest website to download coupons and view participating retailers.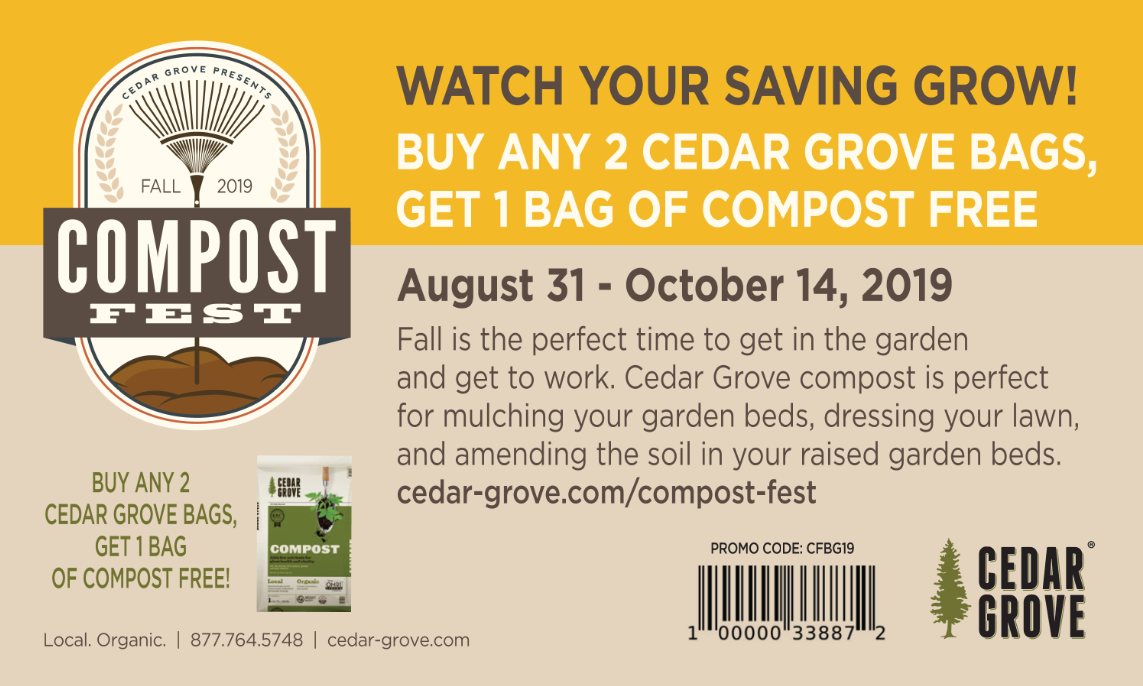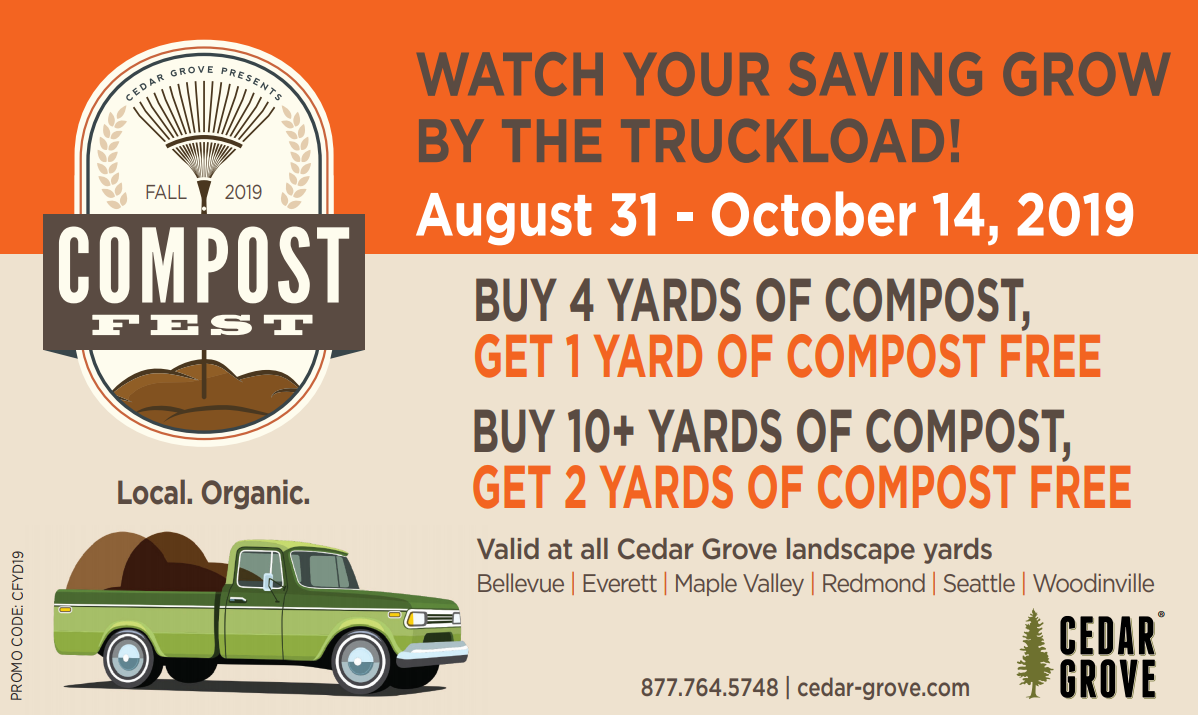 Dogs Invited to Swim at Yost Pool September 21st
Don't miss the inaugural Paws in the Pool event hosted by the City of Edmonds and O.L.A.E.
(Edmonds - WA)
- Edmonds is going to the dogs! The City of Edmonds Parks & Recreation and Off-Leash Area Edmonds (O.L.A.E) will be hosting the first ever Paws in the Pool event, Saturday September 21st at Yost Pool, 9535 Bowdoin Way. Proof of current rabies vaccination will be required prior to entry. Swim sessions will be separated by dog's weight and all dogs must be spayed or neutered.
Dogs 50 lbs and under – 10 am - Noon
Dogs 51 lbs and over – 1 pm – 3 pm
Fee is $5 per dog with proceeds supporting ongoing maintenance at Yost Pool. Registration is encouraged. Walk-ups will be accepted as space permits.
Sponsored in part by: Fifth Avenue Animal Hospital, Bridge Animal Referral Center (BARC), Peaceful Companion, Muttley Square, SplashDog, Muddy Pawz Dog Spa, Blue Collar Doghouse, Pawz 4 Pawz, Compassion 4 Paws, and Urban Wild Animal Training.
Rules, regulations and to register, go to

reczone.org

and search 'paws'. For more information regarding the Paws in the Pool event contact Kim Anderson, Edmonds Parks, Recreation and Cultural Services Coordinator 425-771-0268 or
kim.anderson@edmondswa.gov
.
How much should members of the Edmonds City Council and the Mayor be paid? The City of Edmonds Salary Commission is seeking public input on these important questions.
The City of Edmonds 2019 Salary Commission is asking members of the community through civic and business organizations, as well as the general public, to complete a survey in regards to Mayor and Council salaries. Take the
online survey
or visit City Hall for a paper version. The survey will close at the end of business on Monday, August 19, 2019.
A
Public Hearing and Specially Called Meeting
has been scheduled for:
Wednesday, August 21, 2019 7:00 pm Public Safety Training Room 250 Fifth Ave. N, Edmonds, WA, 98020
Members of the public are encouraged to attend. Each person will be given up to three minutes to speak. Follow this link for more information.
From 135 applications for the new Citizens' Housing Commission, 15 members and 8 alternates have been appointed. The Commission's task is to develop housing policy options for City Council consideration.
Housing Commission appointees by district are listed below:
District 1 (by Council member Kristiana Johnson): James Ogonowski and Karen Herrick (with Leif Warren, alternate);
District 2 (by Council member Dave Teitzel): Keith Soltner and Weija (Vicky) Wu (with Wendy Wyatt, alternate);
District 3 (by Council member Adrienne Fraley-Monillas): George Keefe and John Reed (with Eva-Denise Miller, alternate);
District 4 (by Council member Mike Nelson): Nichole Franko and Mike McMurray (with Kenneth Sund, alternate);
District 5 (by Council member Tom Mesaros); Greg Long and Tanya Kataria (with Shirley Havenga, alternate);
District 6 (by Council member Diane Buckshnis): Jess Blanch and Alena Nelson-Vietmeier (with Rick Nishino, alternate);
District 7 (by Council member Neil Tibbott): Judi Gladstone and Will Chen (with Jean Salls, alternate).
The Mayor's appointment is "at-large" (not district-based): Bob Throndsen (with Tana Axtelle, alternate).
The Housing Commission was established by a resolution earlier this year. Under the resolution, the Commission is charged with developing, by the end of 2020, "diverse housing policy options for Council consideration designed to expand the range of housing (including rental and owned) available in Edmonds: options that are irrespective of age, gender, race, religious affiliation, physical disability or sexual orientation."
The seven districts in Edmonds are based on U.S. Census areas, with roughly equal populations among them. The intent of this approach was to have representation from all parts of the city. This is the first time a district-based approach to commission appointments has been used in Edmonds.
All meetings of the Housing Commission will be open to the public. A date for the first meeting is being determined to allow as many of the new Commissioners to attend as possible. The meeting date and place will be announced ahead. Monthly meetings will be scheduled after that.
To encourage more opportunities for local involvement, additional public events (such as open houses or town halls) will be scheduled and announced too. The events will vary in location and occur at least once per quarter. A broader community outreach strategy is being developed.
More information about the Housing Commission effort is online at:
https://www.citizenshousingcommission.org/
.
Ms. Neill Hoyson scheduled to start Aug 26th (Edmonds - WA)
Mayor Dave Earling has appointed Jessica Neill Hoyson to fill the vacant Human Resources Director position at the City of Edmonds. City Council confirmed Jessica Neill Hoyson's appointment at the Monday, August 5, 2019 Council meeting.
The City opened the HR Director recruitment on May 23, 2019 shortly after the prior HR Director, Mary Ann Hardie, provided her resignation notice. Mary Ann Hardie had served the City for fourteen years and was in the Director role since Council brought it back in September of 2016. read more
Public encouraged to attend August 8th meeting at 6:30 p.m. in the City Hall Brackett Room. For more information please click
here
.
Summer trolley to run 11 am - 6 pm on Saturdays in August between downtown Edmonds and the waterfront district. Click
here
for more information.
City to Celebrate the Opening of its First Inclusive-style Playground
SEAVIEW PLAYGROUND Ribbon Cutting scheduled for10am, Wednesday, July 24th
The City of Edmonds is pleased to announce that the inclusive playground at Seaview Park is near completion. The playground features play activities for children of all abilities including a poured in place fall surface material and multiple interactive spaces accessible at ground level AND a challenging climbing structure. In addition, the swings have been expanded from four (4) to seven (7) with the addition of an adaptive swing, a disc swing and a toddler bucket swing.
"As a neighborhood playground, we designed this in partnership with the Seaview community, we are very appreciative of the Edmonds City Council and Councilmember Nelson for their support in ensuring we had the resources necessary to be inclusive in our approach to the Seaview Playground," stated City of Edmonds Deputy Parks and Recreation Director Shannon Burley.
You are invited to attend the ribbon cutting ceremony on Wednesday, July 24, at 10:00 a.m. at Seaview Park, 80thAve W & 186thSt. SW.
For more information regarding the Seaview Playground Ribbon Cutting contact Shannon Burley, Deputy Parks, Recreation and Cultural Services Director 425-771-0232 orshannon.burley@edmondswa.gov.
City code has been simplified, let us clarify where you can and cannot take your dogs...
City Council has approved an updated code regarding dogs in parks on a trial basis. Dogs in parks must remain on a leash and in the owner's control. Here in Edmonds we do not have a significant dog enforcement team and appreciate the efforts of dog owners to self-police. In addition to expanding opportunities for pet owners, the parks crew will be installing additional dog waste stations in parks. Click here for questions and answers regarding dogs in parks wtih our Parks Director, Carrie Hite.